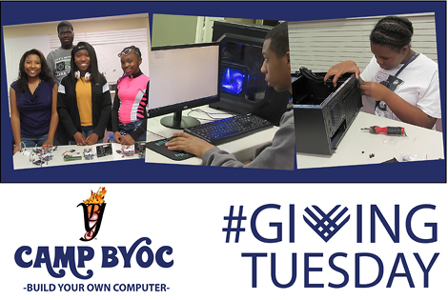 Ignite a passion for technology in youth and create future technology innovators.

Dec 3 is #givingtuesday. Facebook will match donations up to their matching limit. Will you donate on that day? Giving starts at 8am.


In 2019 Camp Byoc taught 100 youth how to build a computer, coding, circuitry, robotics and more. We expanded our reach in large part because of your support during the 2018 #givingtuesday campaign. Our goal for 2020 is to continue expanding our reach by touching the lives of more youth, particularly minority youth. We expose youth to many facets of technology and we build the tech skills of those who stay with us. We allow them to find their passion. Our slogan is "ignite a passion for technology" and that is just what we do. Several students have found such a passion and continue into college. Your support is vital to the continuation of this work.

The experience at Camp Byoc has been eye opening and transformational for many. Some now in college and others in high school Camp Byoc has been a strong influence in their career choices. Majoring or planning to major in computer science, on the high school robotics team and learning web design are a few examples. In many cases Camp Byoc introduced them to these technologies. Your support will allow us to continue and reach more youth.