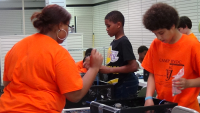 This is information about the Intro to Building Series.
There are 4 sessions in the series. The dates are: Oct 27, Nov 3, Nov 17 and Dec 1.
Learn all about how computers are built. Get hands on experience to learn the assembly process while learning the science behind the components.

Register for more than one complete series and get a 10% discount.
Register 2 or more students and get another 10% discount/student.
The discounts will appear at the Paypal checkout. You can pay via Paypal, credit card or bring your payment to the office - CDM Technologies - 115 W. Kemper Road, 45246.
To pay with a credit card you will go to the Paypal checkout and click the button to create an account. That link will allow you to make the payment using a credit card without creating a Paypal account.

Ages 12 and up.
TO REGISTER CLICK HERE. You will be registering for the entire series.